Choice One Mortgage Introduces New Redesigned Website to Enhance Customer Experience, Loan Options and Resources
October 18, 2018
Cutler Bay, FL – (October 17, 2018) Choice One Mortgage introduces a newly redesigned website in an effort to create a better experience for users who are in the market for a mortgage loan. The redesigned website introduces new tools for consumers to use when looking for a loan as well as easy navigation. Choice One Mortgage, which has been in business for years, is a premier mortgage company located in Cutler Bay, Florida, that offers a wide range of loan services to consumers. They pride themselves on being able to offer their clients some of the lowest loan rates available without sacrificing the superior customer service they are known for. What makes Choice One Mortgage stand out is the pride the company takes in its efforts to match the right loan with every customer to satisfy their financial needs and circumstances. CEO Robert McDougall says, "We offer a range of mortgage loans because we know there are different circumstances for different customers, and we want to ensure we are able to meet the needs of individuals as precisely as we can."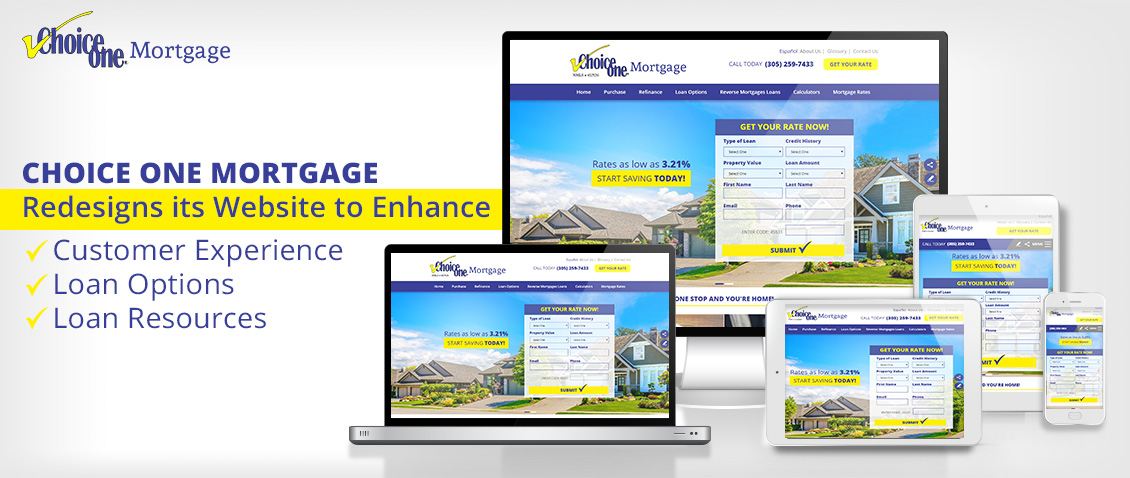 Whether you want to buy a new home or refinance an existing mortgage, Choice One Mortgage is ready to help. The company has experienced loan officers available to discuss the loan types and to help educate you on your options along the way. Choice One believes in building relationships with customers that go beyond a single encounter. They want to develop a relationship that will bring customers back for any loan needs. This is the reason the company puts such an emphasis on providing a better customer experience all the way around.
The new website is designed to be a part of that process. It offers educational information about the types of loans available, access to expert advice that will help customers better understand the loan process, and interactive tools that help customers determine what options are available before they even apply for a loan. The company promises the newly-designed website is going to simplify the process of getting the right loan at the lowest rates possible. If you're in the market for a mortgage loan, visit Choice One Mortgage's redesigned website at https://www.choiceonemortgagecorp.com to see how they can help you with your mortgage loan today.
No SSN Required
Zero Cost
30 Second Form
Zero Obligation
No Credit Check Conducted
Zero Hassle